Mango juice production line
Originating from India and Malaysia, mango is a common tropical fruit. It looks oval and light yellow. Mango is rich in protein, vitamin, minerals and other nutrients. It has efficacy of antioxidation, which can lower the risk of cancer, prevent cardiovascular disease, resolve phlegm, delay senescence, strengthen stomach and anti depression. Mango pulps taste sweet, which can be eaten directly or made into dried fruits. Usually, mangos are processed into mango juice, brewed wine, mango vinegar, dried mango, and canned mango.
To process mango into juice drinks can prolong their shelf life, promote added value, increase farmers' income, and enrich the fruit juice market. The mango juice production process covers sorting, peeling and destoning, softening, pulping, homogenization, degassing, sterilization, filling and packing, cooling. AGICO provide whole set of mango juice production line. High quality and reasonable price is guaranteed!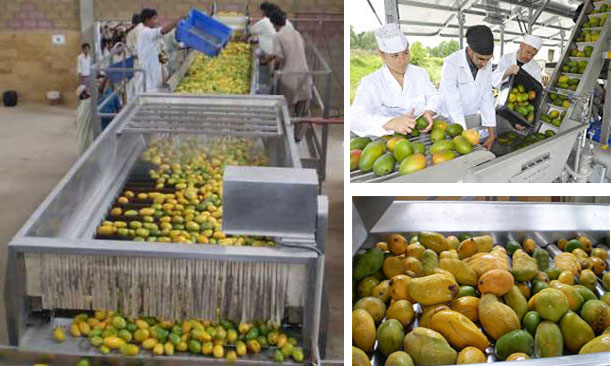 A mango juice production line includes the following equipment, but not all the equipment are indispensible.
Fruit sorting machine
Fruit washing machine
Mango pulper machine
Vacuum degasser
Juice homogenizer
Juice pasteurizer
Juice filling machine
Mango sorting process
Sorting process aims to inspect raw material so as to ensure the quality of mango juice. Nine mature is the best. Fruit sorter can help staffs get ride of those unripe, diseased or rotten fruits.
Roller bar mango sorting machine can be used to select mango and other spherical and oval fruits. This fruit sorter can work individually or connect with other mango juice processing machines. The roller bars are driven by horizontally moving chains, putting mangos forward and rotating them at the same time. During this process, the staffs can observe from all angles and pick out the unqualified ones.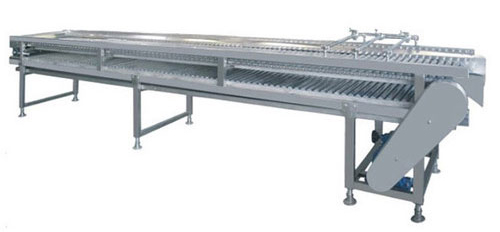 AGICO mango sorting machine has the following advantages:
The transmission shaft adopts stainless steel and stepless speed adjusting device.
The rolling bars are stainless with smooth surface, which do no harm to fruit surface.
The motor is equipped with a shield, and the oil guiding pipe is grounding type. They contribute to a sanitary environment for fruit sorting.
Mango washing process
This mango juice production process is carried out by the surfing type fruit washing machine. It applies to spherical and oval fruits. Under the washing of high-pressure water pump, fruits roll and get rinsed by the tumbling water. Then they are bring into an elevator for the next process by the onrushing water.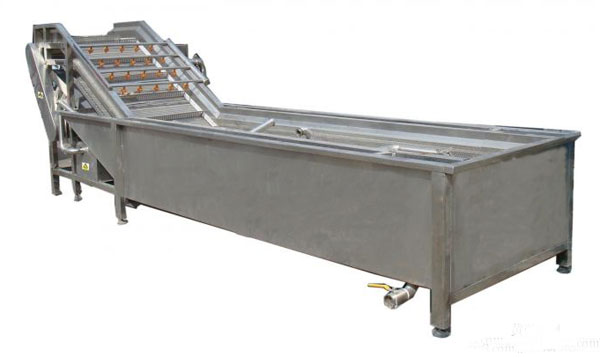 Superiorities of surfing type mango washing machine:
The washing water can be recycled after filtration.
Circulating water pump keep supplying strong water flow to rinse fruits.
Washing tanks is made of 1.5mm stainless steel, the transmission shaft adopts 1Cr13 stainless steel.
It can function individually or work together with other mango juice processing machine.
Mango preheating and softening
Put mangos in boiling waters for 3-5 min, passivate or destroy the polyphenol oxidase, and stabilize the color and improve flavor. Preheating can also eliminate the air in raw materials. In this way, we can prevent oxidation and browning of mangos, and soften mango pulps to facilitate pulping and juice extracting.
Mango peeling and pulping
This mango pulper machine integrates the function of mango peeling, destoning and pulping. As a specialized mango juice processing machine, it can remove the core and peel of mango completely and reduce the lose of mango pulp as much as possible. The pulp recovery rate is up to 99.5%. The production capacity is from 5t/h to 20t/h.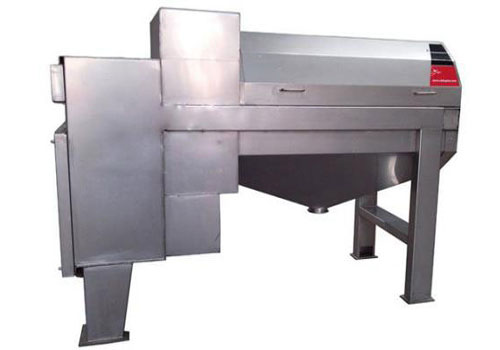 AGICO mango pulping machine has such advantages:
Automatically separate mango juice and residues including cores and peels.
Mango pulping machine can work individually or together with other fruit juice processing machinery.
Conform to food sanitary standard. The parts connecting with mangos are made of stainless steel.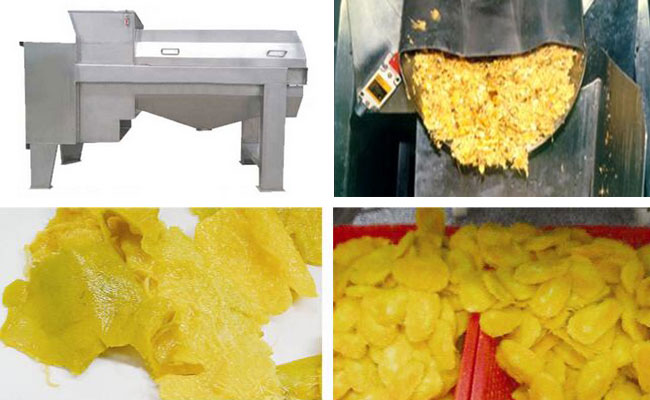 Mango juice Degassing
Usually, mango juice contains certain quantity of air, which is stored in fruits or interfused during mango production processes. These airs many cause juice oxidization and corrosion to the containers. By expel the air with a vacuum degasser, we can prolong its shelf life. Requirements for degassing are vacuum 0.65-0.75 Mpa, 90-95℃, and 10-15min.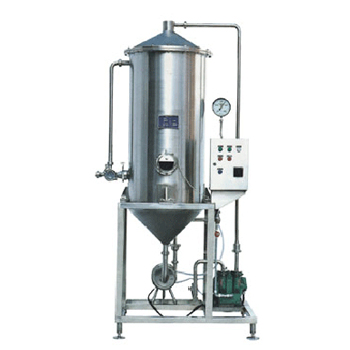 Mango juice Homogenization
After degassing, the mango juice will be homogenized under 20-25MPa pressure for 2-3 times in a homogenizer. Then the big particles in mango juice are crushed to under the size of 1-5μm. Homogenization can unify the particles in fruit juice, regulate sediments and improve drink taste.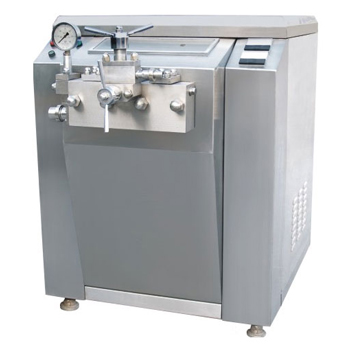 Mango juice sterilization
Sterilization is a necessary step to ensure the shelf life of mango juice. It can eliminate bacteria, yeast and inhibit enzyme activity in fruit juice.
AGICO mango juice sterilizer can realize high-temperature sterilization and pasteurization. This pipe sterilizer boasts large contact area, fast heat exchange speed. The sterilization temperature can be adjusted from 62℃ to 85℃. Composed of several pots, it applies to small scale production and multiple purpose.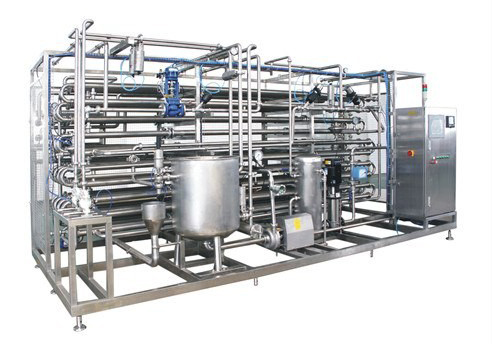 AGICO mango juice sterilizer has the following advantages:
All contact part with fruits are made of SUS stainless steel.
The pipe gaskets are made of food grade PTFE rubber. Pipes are jointed by DIN sanitary joints.
This pasteurizer is equipped with visual temperature control system and timing system. You can adjust the cycling and gap time of pump.
Mango juice filling and packing
Juice filling machine can realize filling and packing of mango juice, which's a necessary step for mango juice mass production and sale. AGICO automatic bottle filling machine can carry out bottle transmission, overturn, filling and draining process automatically. As an ideal equipment for mango juice packing line, it features superior material, pretty appearance, simple operation, convenient maintenance, which applies to a wide range of bottles shapes and materials.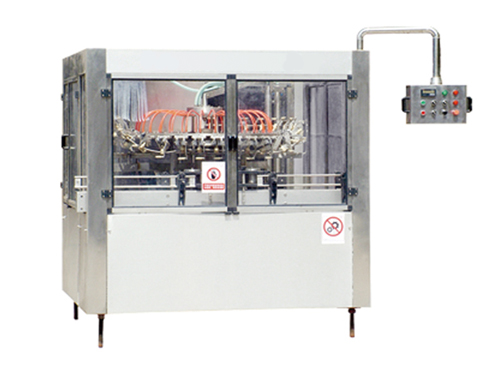 AGICO mango juice filling machine has the following advantages:
The exposed part and contact part with juice are made of superior stainless steel or food grade plastics.
The height adjusting device and individual infeeding rods make it applicable to different bottles.
With a frequency converter in the main engine, the productivity is adjustable within a certain range.
The whole machine is covered with a shield. Each working face is equipped with an organic glass dodge gate.
The overload protecting device can guarantee the safety of equipment.
Get in Touch Now!