Juice filter machine
Joint filter machine is also called parallel switch filter. Two single-drum filters are joined with 2 way ball valves.
The two filter drums can work simultaneously or by turns. It allows you to clean or replace the filter screen without stopping the machine. So it is suitable for continuous juice production line.
The joint juice filter can be separated apart by removing the common base. Each filter drum can work independently.
Joint filter machine can be used not only for juice, but also milk, syrup, Colloidal fluid, liquid medicine, etc. So it is widely applied in chemical, pharmacy, water treatment, and other industries.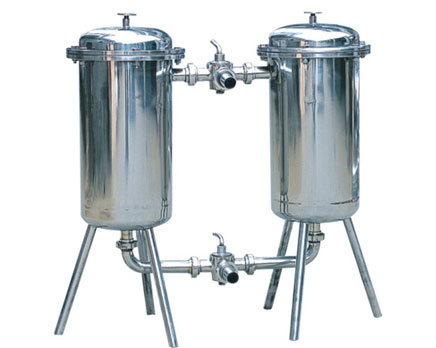 Features of joint juice filter machine
Joint juice filter machine adopts pressure filtration technology, with low pressure drop, suitable for liquids with high sanitary requirement.
The body material is stainless steel. The filter screen adopts stainless steel, aluminum material, or honeycomb type degreasing fiber cotton. The latter can filter out particles whose sizes are above 1μ.
Joint juice filter machine features high filtration speed, large residual holding capacity, rational structure, tight sealing, smooth circulation, easy operation and low cost.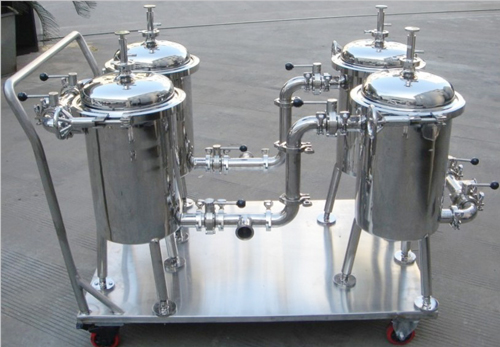 Structure and working principle
The joint juice filter machine is composed of 2 filter drums. The are made of welded single-layer stainless steel, with the inside and outside polished.
Stainless screen and support basket are installed inside the filter drum.
Vent valves are at the top of the drums to exhaust gas from inside.
The top cover adopt quick-open structure, convenient for filter screen cleaning and replacement.
There are 2 adjustable supporting foots at the bottom of each filter drum.
The pipes are connected by expanding pressure or hoops. They have passed 0.3Mpa hydraulic test.
The discharge valve adopts external-thread T-cock, it can open and shut flexibly. It is resistant to high pressure and temperature, with no liquid leakage.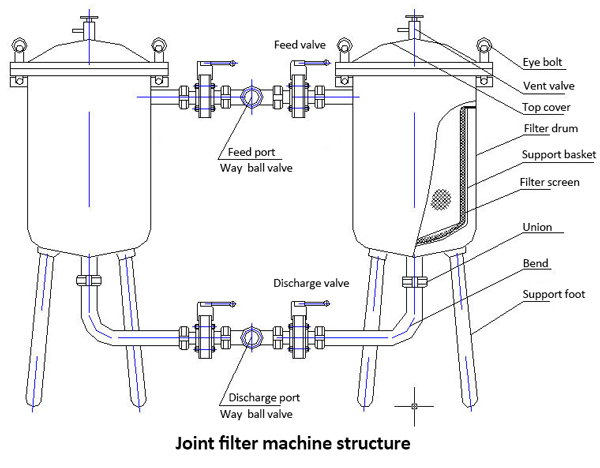 Parameters of joint juice filter machine
| Model | Filter area(㎡) | Capacity(t) | Outlet Diameter(mm) | Filter Temp(℃) | Pressure(Mpa) |
| --- | --- | --- | --- | --- | --- |
| JDF-5 | 0.15 | 5 | 32 | ≤120 | 0.2 |
| JDF-10 | 0.3 | 10 | 40 | ≤120 | 0.2 |
How to install juice filter machine correctly?
Be careful with the control cabinet, sensor and drive system in installation and using.
Install the pipes along the arrow direction in the filter drums.
In electric motor debugging, make sure the rotating direction of the electric motor is in line with the labeled direction.
Remember to install by-pass pipes to facilitate inspection and maintenance.
The discharge port should be installed at the bottom of the juice filter machine. Don't make the discharge pipe too long or the wastes would block the pipe.
Get in Touch Now!