Juice belt press
AGICO juice belt press is a high-efficiency juice extractor machine. It adopts advanced technology of Flottweg and achieves high juice yield rate. Juice belt press can be applied for fruits like apple, pear, pineapple, orange, lemon, grape, watermelon, and vegetables like tomatoes, potatoes, carrots, and gingers. Besides, it can be used for the dehydration of pickles.
This juice belt press adopts multistage folding and pneumatic pressure to achieve high extraction rate. Besides, it has the advantages of energy-saving, high automation, continuous working, universality, fully filtration, easy operation and maintenance. With a juice belt filter press, the juice yield rate can increase by 20-35% and reach to 75-78%. It can lower the cost of production and raise the economy effect.
Juice belt filter press can be used for the dehydration of powder and pulps in food, chemical, environmental protection, and light industries.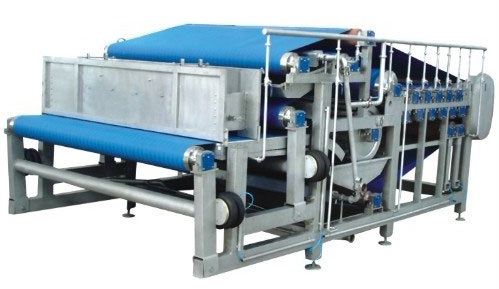 Juice belt filter press component parts
Juice belt press is composed of a rack, drive and driven shaft, reduction drive assembly, filter belt, belt cleaning assembly, feed device, material spreader, stretching device, rectifying device, pressure unit, safety protection device, gas and electric control device, clean water filtration unit. The support equipment include water filtration unit (curved mesh filter, water storage tank), stainless-steel vertical multi-stage pump, spray water reflux pump, etc.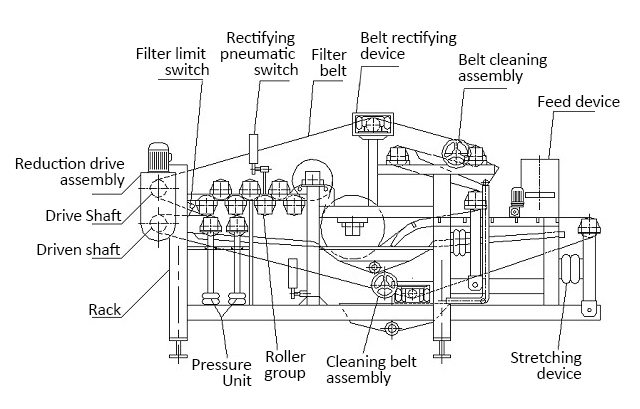 Juice belt filter press working principle
The crushed materials (Mixed solids and liquid) are pumped into the feed hopper by a screw pump, and distributed uniformly by a spreader.
In the recurvate wedge zone, large quantities of water was squeezed out, and the raw materials are formed into filter cakes. In the squeezing zone, a roller with an L type batten squeeze the water out and let it overflow from both sizes.
The next rollers become smaller and smaller, and the filter belt is S type. They generates diminishing pressure and shear force to achieve the best dehydration effect. To improve the dehydration rate, there is a roller that can generate linear and peripheral pressure.
After dehydration, the scrapers scrape off the filter cakes from the filter belt. Then, the high-pressure spray nozzles washed the filter belts continuously to keep the belt of high juice yield rate. With a reflux pump and a curved mesh filter, the washing water is filtrated, the slag is removed. It can be recycled to save energy.
The filter belts are woven of nylon threads. They are acid and alkali resistant and meet food hygienic standard. Besides, they have high strength, no water absorption, easy for juice to pass through.
There is a airbag tightening the belts and a special rotary valve to prevent the belt deviation. The filtration process is automatic, safe and stable, with no risk of overloading.
The major reduction drive is equipped with a frequency control device. The processing capacity is adjustable within a certain range.
Juice belt press technical parameters
| Model | Capacity(T/H) | Belt width(mm) | Power(kw) | Dimension(mm) | Weight(kg) | Air compression(MPa) |
| --- | --- | --- | --- | --- | --- | --- |
| DYJ-03 | 3 | 800 | 21 | 4000*1800*2350 | 2500 | 0.7 |
| DYJ-05 | 5 | 1200 | 21 | 4000*2000*2500 | 4200 | 0.7 |
| DYJ-10 | 10 | 1750 | 22 | 5000*2500*2600 | 5800 | 0.7 |
| DYJ-20 | 20 | 2500 | 38 | 5400*3300*2700 | 6600 | 0.7 |
Features of juice belt filter press
This series of juice belt press applies to different types of fruits and vegetables, with high extracting rate.
It plays an important role in VC project, alcohol project, and the production of wine, starch and feed for the solid-liquid separation of semi-finished products.
Belt filter press can also be used in industrial swage treatment, desalinization of water for mustard.
Full automatic continuous operation. The gas and electric control system can realize belt stretching, rectification, pressurization, and frequency control.
Energy saving. The washing water is filtered by the curved mesh filters for recycling. To adapt to different conditions, there are vertical multi-stage pump, single screw pump, centrifugal pump for selection.
Get in Touch Now!